It annoys me to no end that when I feature an artist in Artists You Should Know, I have to go scouring the internet for a decent photograph of them. Either I have to choose from an unflattering array of old photos or use Google to find a current photo. I kknow you'll say: "Go to their Facebook page". That really doesn't help. They never have a decent photo that shows who they are. Artists, you must realize that the world need s a photo of YOU! Plain and simple. No fluff, no tricks, just you. We need to know what you look like before you show up at our convention or concert. It is proper to ask for a photograph, but if I am doing an event myself and need a flier, I may waste precious time asking your press agent for a decent photograph. Facebook should have previously approved and current photos that show off your best self. You don't always have to spend a ton of money to have them, but you do have to have them. Any investment in your image is an investment in yourself. You need……..A HEADSHOT.
Your headshot is kind of like the logo for your personal brand.
Like a business logo, it'll show up everywhere you showcase your personal brand online: your Twitter profile, your LikedIn profile, your blog, your email signatures, and so on. And, also like a business logo, it's a great opportunity for you to use imagery to make a lasting, positive impression on your audience.
Trouble is, professional headshots can cost a pretty penny, which is why a lot of people wind up taking matters into their own hands. But before you reach for your selfie stick, you should know that not all DIY headshots are created equal.
In order to take a great one, you need to know a thing or two how to set up a shot, what to wear, and how to edit a photo. To help you out with that, we put together a step-by-step guide that'll walk your through the process. Check it out below.
What Makes a Good Headshot?
There is a reason photographers can charge so much for headshots: There's an art to taking good ones. So before I get into the step-by-step, let's quickly go through the elements of a good headshot. These'll help put some of the steps in better context.
A good headshot …
Is framed from the chest up.
Captures you looking directly at the camera. Eye contact is one of the most important elements of a great headshot.
Has good lighting on your face. Beware of weird shadowing.
Showcases the personality and aura you want to give off. This is what makes it memorable.
Is easy to see and notice even when it's small.
Here are two great examples
Now that we've covered what makes a headshot good, let's dive in to how to actually take one.
19

 

Steps to

Taking Your Own Professional Headshot

Before we begin, keep in mind I am not a professional photographer. These tips are based on research and interviews from folks who know a lot more about photography and headshots than I do — I've just organized the tips in one place for your reading pleasure.
Before the Shoot
1) Grab a friend or a tripod.
Contrary to popular belief, selfies typically don't make for good headshots.
The best way to ensure your photos are level and well aligned is to enlist a friend to help you, Professional Photographer Zac Wolf told me. "I think people are better off asking a friend to shoot it for them rather than buying a tripod," he said. "The friend can help them get better angles and provide criticism that a tripod cannot."
Enlisting a friend will be a major time-saver when it comes to actually taking the photos, too.
If you have to be on your own, then you will want to buy or borrow a tripod and holder for your phone so your camera can sit at chest height. From there, you'll end up setting a timer and posing for the picture.
2) Pick a location inside with good lighting and a simple backdrop.
The best headshot location is typically indoors, away from direct sunlight, and in front of a solid color backdrop like a wall or a sheet.
Getting the lighting right is the hardest part, so take some extra time finding a good spot that doesn't have sunlight coming in through a window right onto you. Direct sunlight is harsh and can be totally unforgiving. Not to mention, it'll make you squint.
If you do want to shoot outside, then there are ways to make it work. Wolf actually prefers taking portraits outdoors over indoors. "Outdoors, you'll find better and more flattering lighting than indoors, even with artificial lighting," he said.
His trick? Finding "open shade" — a sweet spot between sun and shade, where you're just inside the shade but facing the light — and a nice, clean wall to shoot against.
Whether you take your headshot indoors or outdoors, you'll want a backdrop that makes it look like you're in a professional photographer's studio. That means sitting or standing in front of a solid-colored wall that'll make your face stand out.
If you can't find a solid colored wall, you could purchase a backdrop online for relatively cheap, like one of these on Google Shopping.
3) Invest in additional lighting (if you're indoors).
Remember: Good lighting is the hardest thing to get right in a photograph — but bad lighting is a telltale sign of poor photography. If you're taking your headshot indoors, the answer to your prayers will be adding additional, artificial lighting of your own.
"If you're going to use artificial lighting, make sure there's no sunlight coming into the room, too — especially on your face," says Michael Kolowich, founding producer of DigiNovations, a Boston-based media production company. "Sunlight is bluer than most artificial light, and you won't like the mix of colors."
What should you buy? On his blog, Dan Shure suggests buying studio lights online in places like Amazon. "Trust me, they have come in handy for many other applications, such as shooting my own videos," he says. "You may just want to make the investment. If not, you can go a long way with some lights like this from Ikea. Get one or two of those, and don't position them to close to you [to] avoid weird shadows."
4) Equip your phone with the right camera apps.
You can skip this step if you're using a regular camera. But camera phones are actually pretty great nowadays, and can serve you quite well for the purposes of a headshot.
If a friend is helping you out, then you can use the camera app that's built right into your phone — although I'd recommend using an app like GorillaCam (free / iOS only) or Open Camera (free / Android only) for additional features like a bubble level tool for correctly aligning your pictures.
If you're on your own, you'll definitely want to download one of those camera apps — especially for the timer feature.
5) Clear up space on your phone.
Before you start your photoshoot, you're going to want to make sure you have room for all the photos you're going to take. Believe me, you're going to take a lot of headshots. Like, possibly several hundred. The last thing you're going to want to do is pause your photoshoot to clear space on your phone.
Modern versions of iOS and Android devices have options in settings to show you exactly what's taking up storage on your device:
On iOS: Open the "Settings" app and tap "Storage & iCloud Usage." Under "Storage," click "Manage Storage." Click here for tips on clearing up space on your iOS device.
On Android: Open the "Settings" app and tap "Storage." Click here for tips on clearing up space on your Android device.
6) Block off at least two hours for the shoot itself.
Remember: You're going to end up taking a ton of photos to narrow down that one headshot. You won't want to be in a rush. So don't make this a half-hour break from your work: Give yourself plenty of time for setup, taking the photos, and going through them — I'd suggest two or three hours, minimum.
7) Practice in the mirror.
Seriously. Practicing your pose may feel a little uncomfortable, but it can really help you during your headshot session. Practice different ways to "let your personality shine" so you have some looks to work with when you finally start your shoot.
The Day of the Shoot
8) Clean up.
You don't need to spend a lot of money on makeup and hair. You'll probably end up looking like a totally different person if you do — and that's not the point. The point is to look like yourself on a really good day. That means spending time making your hair look good, shaving, putting on neutral makeup that conceals under-eye shadows and redness. If you're not savvy on this stuff, have a friend help you out.
9) Pick a few nice shirts to wear.
What you're wearing in your headshot will say something about you. When you choose a shirt to wear, think about where your headshot will appear and what message you'd like your picture to convey. (You don't need to worry about bottoms and shoes, as headshots won't show below your mid-chest.)
For example, let's say you have some cool tattoos on your arms. You'll want to think about whether you'd like to showcase them as part of your unique personality, or cover them up if you want to be more formal.
Here are a few good rules of thumb from Paul Valentino, a European actor currently based out of Los Angeles:
Avoid overly bright colors, but don't wear all black or all white either.
Avoid distracting, "busy" textures on your top, and anything that might take away from your eyes.
Don't wear anything with a logo on it to stay neutral.
Don't wear any accessories that you don't wear daily.
Remember to pick out several options, as you can never quite tell how a shirt will look on camera until you try it!
11) Position your camera.
Once you've got the lighting down, set up your camera so it's on a steady surface. If you're using a your camera phone, make sure you're using the lens on the back of your phone, not the "selfie lens."  (It turns out the back lens has higher resolution specs than the front one.)
You'll want it to be about two or three feet away from where you'll be standing or sitting. Whether you're standing or sitting, you'll want the height of the camera lens to be about at your chin, although you can experiment with a slight upward tilt once you get going. You'll also want the camera to be facing you dead-on (i.e., with no horizontal angle).
13) Position yourself at an angle, and look directly at the lens.
Now that your equipment's set up, let's focus on you.
"Don't face your body squarely into the camera," says Kolowich. "Sit so your body is pointing 30 degrees to the left or right of the camera, and then turn your head to face the camera. Try both ways, and see which you like better."
Make sure you're looking right at the lens. "Eye content is perhaps one of the most important parts of a headshot," writes Shure. "It's what's going to grab someone's attention, so look into that camera!"
14) Make yourself laugh, talk to yourself, and turn on some lively music.
When you first start taking the photos, you may find yourself looking and feeling kind of stiff. That's perfectly natural — but it won't help to just stand there and force a smile. Help yourself out by doing things that'll loosen you up a little bit.
"People should try to look friendly, happy and approachable in their headshot," says Wolf. "My favorite trick is to make yourself laugh."
Shure suggests leading into a smile by talking to yourself to get a more natural expression. He likes to say things out loud, like "oh wow!" or "that's so awesome, I'm so happy for you!", and then finishing with a smile by the time the camera clicks.
Another trick? Turning on lively, energetic music to get your mood up.
15) Take a ton of photos, and scrutinize as you go.
As you start taking photos, review them, scrutinize them, and make adjustments as necessary. Make sure your hair is behaving and that you've framed your face well. Play with the lighting, the shadows, and the angle of your face until you find the most flattering pose. And take a ton of pictures. As long as you've freed up space on your phone, you might as well take a few hundred — you can always delete them later.
After the Shoot
17) Choose your favorite 20 photos, then review them with a friend.
Once you're done with the shoot, sit down and review every single one, deleting the obvious bad ones and picking out your favorites as you go.
(Pro Tip: If you have an iOS device, you can add individual photos to a "Favorites" folder on your iPhone. When you're scrolling through your photos, tap the heart icon at the bottom of your screen to add it to a photo album called "Favorites" in your iPhone's folder's, which you can access easily and at any time.)
Once you've narrowed it down somewhat, send what you have to an honest friend, like your spouse or your sibling. Research shows we can't necessarily see our own facial expressions and body language objectively, so they'll help you pick the best shot — one where you look good, and your face is communicating the message you want it to.
Here are two more good examples of proper headshots. In this one, we can see what the young lady's face looks like. If we meet her in person, there will be little room for guessing. No shadows, no hair in the face, just face. We get a sense of who she is and a peek into her personality.
In this next photo, we know that the young man in question is a musician. While he did choose darkness as a backdrop, we are still able to see his profile clearly and it is well-lit. He shows a bit more personality in this one (as most musicians do), but there is still a good image for us to put the name and music with the face.
18) Touch it up using photo editing apps.
Have your best photo ready? It's time to touch it up using a great photo editing app.
19) Crop for every purpose.
Once you've touched up your photo, the final step is cropping it for the places you want it on the web. In most cases, this'll mean cropping your photo as a square, since every major social network requires square profile photos. Here's a quick cheat sheet for profile photo sizes on major social networks:
LinkedIn: 400 px wide by 400 px tall
Twitter: 400 px wide by 400 px tall
Facebook: 180 px wide by 180 px tall
Instagram: 110 px wide by 110 px tall
Pinterest: 165 px wide by 165 px tall
Google+: 250 px wide by 250 px tall
When you crop your headshot, don't just crop a square around your face. Instead, experiment with different ways to crop that'll make the composition of the photo pleasing to the eye. One of the best ways to compose your headshot is to follow the "rule of thirds" — which means breaking your image down into thirds, both horizontally and vertically, so you have nine parts in total.
The theory is that if you place points of interest in these intersections or along the lines, your photo will be more balanced and will enable your viewer to interact with the image more naturally. Surprise, surprise: Your eyes are the most important elements of your headshot, so they should be your "point of interest."
Check out how Shure cropped his headshot in the examples below. The first photo shows how an amateur would crop their square photo, with their head directly in the middle of the frame. The second photo uses the rule of thirds for a much more pleasing visual composition.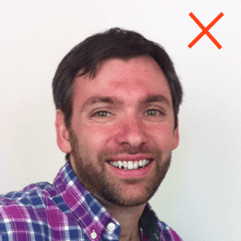 Image Credit: SiteBuilderReport
Once you've cropped your touched-up headshot, it's time to update your social media profiles, your email signature, your blog author bios, and anywhere else on the web where you want your newly updated professional headshot to appear.
19) Give it priority.
Create a special folder for your new professional photos. They need to be quickly and easily accessible to you and to anyone else. If you have the means, provide a link to a folder or page that exclusively has your professional photos. You never know when someone will ask for a photo from you for marketing or advertising an event you are a part of.
Too many times, perspective clients or promoters have to wade through useless Facebook albums looking for a decent photo of you. We either have to crop out your sister and her kids or waste time asking you to send us a decent photo that you feel flatters you most. Why not make it easy on the rest of us and create a folder/album that simply has four to five professional photos of you.